HVAC Regulations Guide for Adjusters
"The system suffered minor damages, but the entire unit will need to be replaced due to federal regulations." Sound familiar? While numerous federal and state regulations govern different aspects of HVAC repairs and replacements that will influence your settlement determination, it can be difficult to get a straight answer about what these regulations include, particularly since they are constantly in flux. To help combat this issue, we've outlined the three most frequently cited regulations so you know what you should account for in your HVAC settlements.
Department of Energy Efficiency Standards
The Department of Energy (DOE) has standards in place that govern the minimum efficiency levels of newly installed HVAC equipment. The DOE first implemented energy conservation standards for central air conditioners in 1992 and has updated the standards several times since then, most recently on January 1, 2015. The next update is scheduled to go into effect on January 1, 2023 (Department of Energy).
The DOE uses Seasonal Energy Efficiency Ratio (SEER) to establish standards for cooling equipment, and Heating Seasonal Performance Factor (HSPF) to set standards for heating equipment. These ratings calculate the amount of electricity required to cool or heat a conditioned space to determine the efficiency of that piece of equipment. For residential equipment, these minimum standards are enforced on a regional basis. The regions were developed based on the number of population-weighted heating degree days to divide the north and south. The south is then subdivided based on relative humidity to separate the hot-dry southwest from the hot-humid South. The standards for the various equipment types in the three regions can be found in the table below.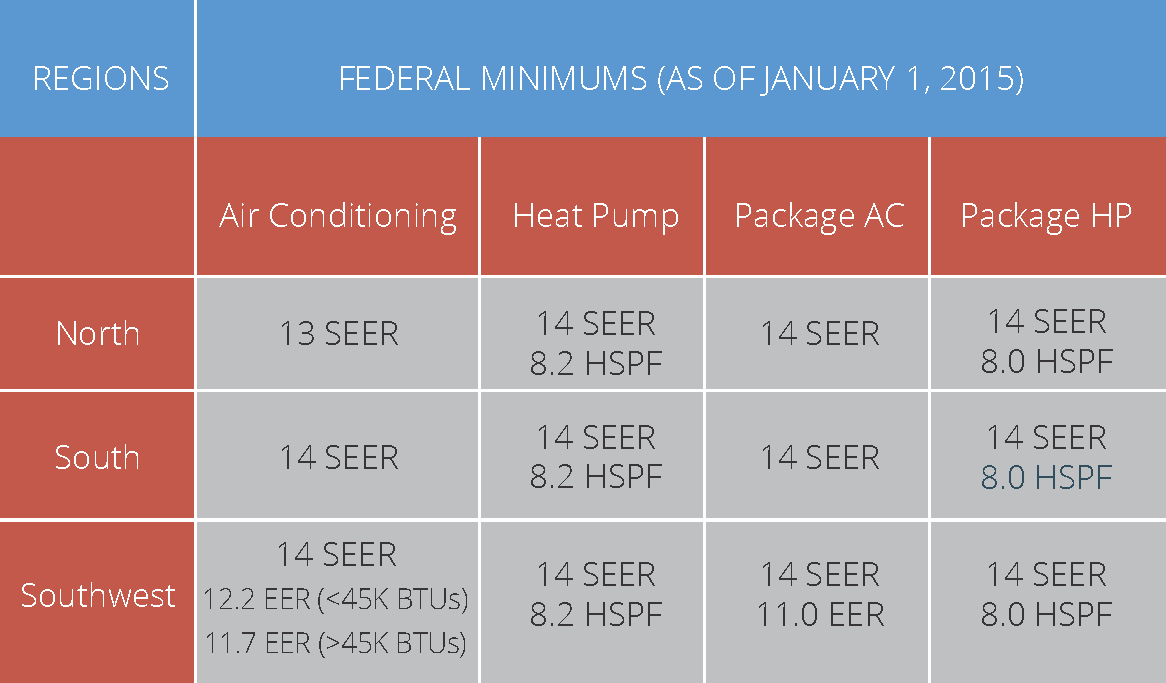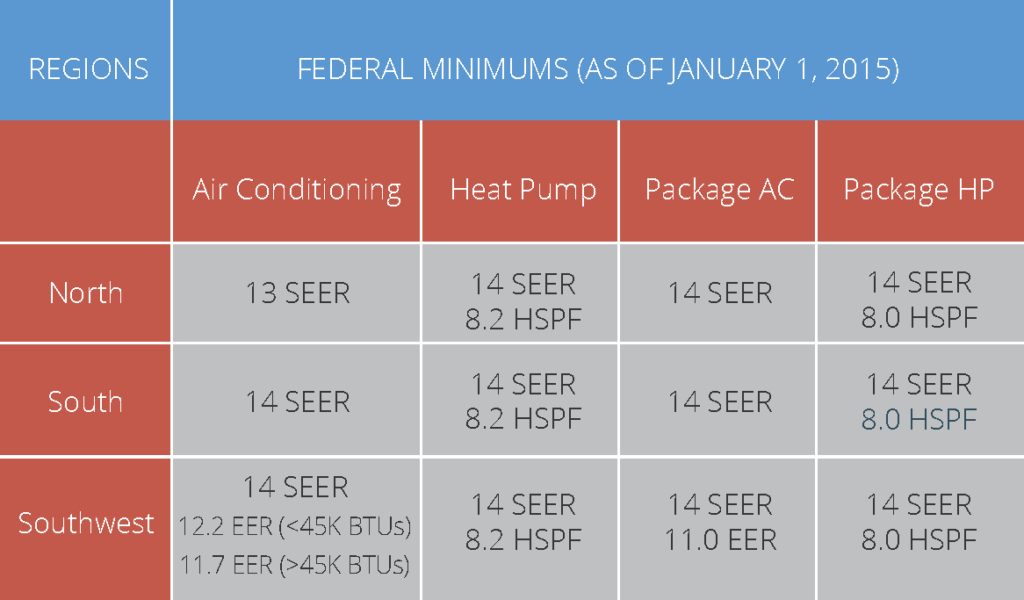 The DOE has also established a set of standards related to commercial package units. This regulation is divided into two phases. The first phase is a 10% increase in energy efficiency and began on January 1, 2018. The second phase is a 30% increase in energy efficiency and will be begin on January 1, 2023. The DOE estimates that these standards will reduce heating and cooling usage by 1.7 trillion kWh over 30 years (ACHR News).
Commercial equipment standards are based on an Integrated Energy Efficiency Ratio (IEER) for cooling, and Coefficient of Performance (COP) for heating. The IEER measures the efficiency of commercial equipment under real-world conditions. This is calculated using a weighted average of a unit's efficiency at four load points. The COP measures the efficiency of heating equipment by calculating how much heat is created using one watt of electricity. The standards for commercial equipment are based on the equipment type, cooling capacity, cooling type, and heating type. These standards can be found in the table below.


Environmental Protection Agency HVAC Regulations
The Environmental Protection Agency (EPA) sets forth regulations to ensure that the United States follows the rules established by the Montreal Protocol. The Montreal Protocol is a global agreement to protect the stratospheric ozone layer by phasing out production and consumption of ozone-depleting substances. As a part of this agreement, the production of hydrochlorofluorocarbons (HCFCs), such as R-22 refrigerant commonly used in HVAC systems, will cease in the United States as of January 1, 2020. The EPA requires that all HCFC refrigerants be recovered. They can then be recycled and resold. Therefore, while virgin R-22 refrigerant will no longer be available, recycled R-22 can continue to be purchased. Additionally, manufacturers will continue to produce parts to repair R-22 equipment for the foreseeable future.
When the phase-out of HCFCs began, hydrofluorocarbons (HFCs) were the accepted replacement for ozone-depleting HCFCs. However, it was later discovered that these substances contain damaging or harmful greenhouse gases that can be hundreds to thousands of times more potent than carbon dioxide in contributing to climate change. The Kigali Amendment was then added to the Montreal Protocol to help combat this risk. This amendment will require Montreal Protocol parties to gradually reduce HFC use by 80–85% by the late 2040s. This will begin with developed countries (including the United States, Canada, Germany, Japan,  and the United Kingdom) reducing HFC consumption in 2019 by 10%. Developing countries will have to cease consumption by 2024 (though a small number will have until 2028).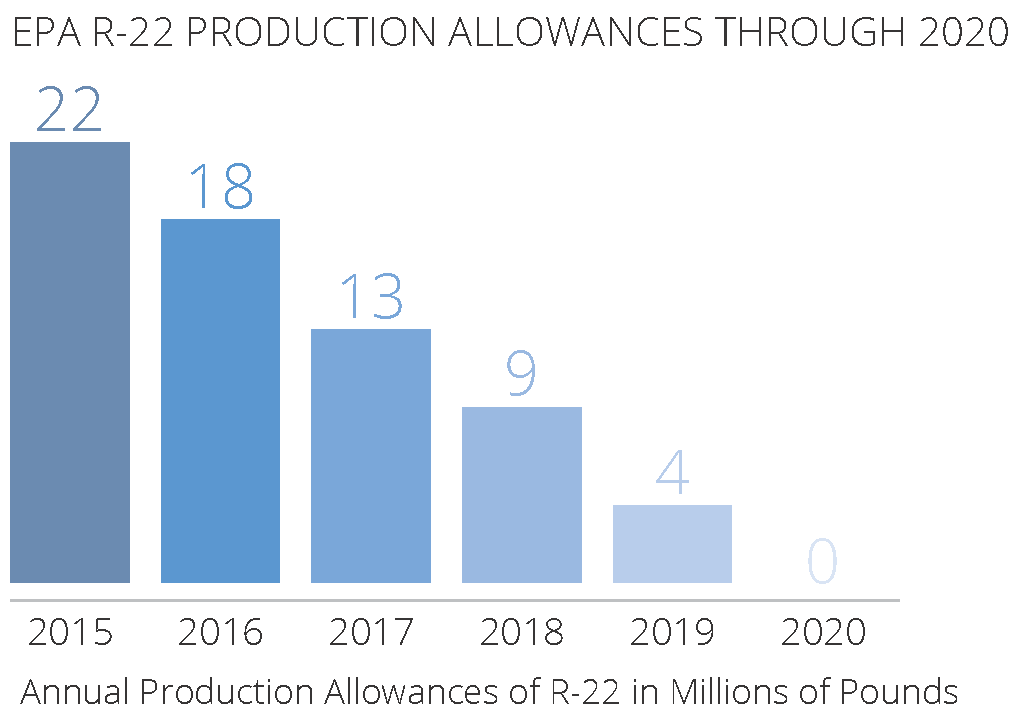 There is not currently a definite HFC replacement available for use in HVAC equipment. Some potential options include hydrofluoroolefins (HFOs), or "natural refrigerants." Manufacturers are continuing to research options and with the phase-down beginning next year, it is expected that some of these will be commercially available soon.
HERS Testing
The Home Energy Rating System (HERS) is a type of testing required in California that evaluates a home's energy efficiency and notes areas where energy efficiency can be improved. This testing ensures that all major systems and appliances meet the state's energy efficiency standards. It examines features such as ceilings, roofs, HVAC systems, vents, ductwork, exterior walls, and floors over unconditioned spaces to determine how the home compares to a designed "model home" of the same size and shape.
In addition to being required when selling, buying, or building a new home, HERS testing is required whenever a new HVAC system is installed, when more than 75% of the duct system is replaced, or when a system is altered by replacing a cooling coil, condensing unit, compressor, refrigerant piping, refrigerant metering device, air handler, or heat exchanger. Common testing includes measuring the amount of air leaks in unconditioned areas from the duct system, testing how well the air conditioning system performs, verifying that refrigerant levels meet manufacturer specifications, and measuring the velocity of air flowing through the duct system during the air conditioning cycle.
What This Means for Adjusters
Constantly evolving HVAC regulations add another layer of complexity to property claims involving HVAC equipment for adjusters. It is, therefore, important for adjusters to thoroughly investigate any claims made by an insured and/or their contractor in regards to HVAC regulations prior to settling for replacement of a system. Even in cases where there are regulations surrounding a piece of equipment, it does not necessarily mean that the system has to be replaced.
If you need help determining the proper scope of repairs to return your insured to pre-loss condition or need a contractor's estimate evaluated, enlist our experts to perform an onsite assessment or desk review.