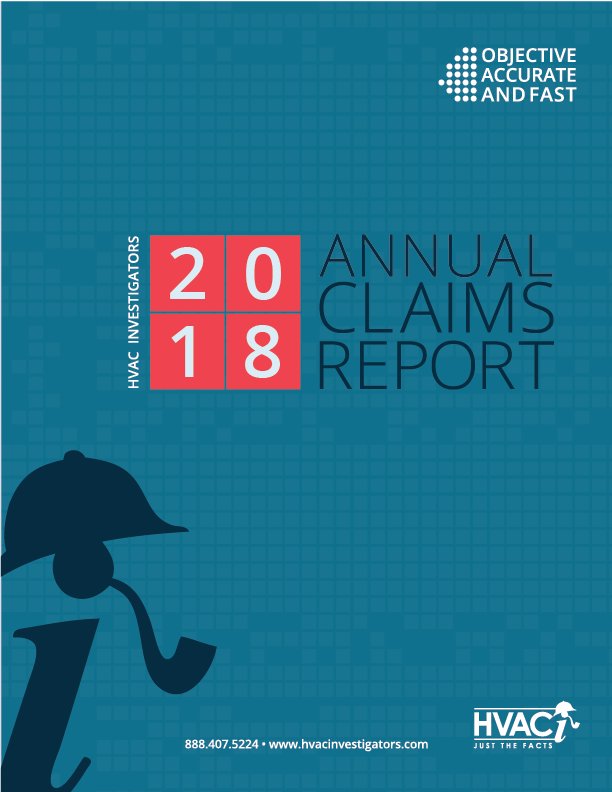 The data in HVACi's Annual Claims Report is derived from the results of both onsite inspections and desktop reviews of residential, commercial, and large loss claims. Included in the analysis is data from claims in all 50 states, for all causes of loss, and across all major equipment types and manufacturers. The report is distributed to insurance carriers nationwide to impart a deeper understanding of the trends related to HVAC insurance claims.
This year's report includes a section devoted entirely to catastrophe claims, which focuses on three major catastrophes that impacted the United States in 2017: Hurricane Harvey, Hurricane Irma, and the California Wildfires. Other new topics include an analysis of severe weather claim trending and distribution of claims by state.
The analysis of HVAC claims presented here provides Property & Casualty insurance carriers with a unique opportunity to review their policy and claims data to determine where they may be at risk of indemnity leakage. Statistics regarding Reported vs. Actual Cause of Loss, Repair vs. Replace Frequency, and Average Claim Accuracy can illustrate where this risk needs to be addressed. Furthermore, the data presented here allows carriers to establish more accurate indemnity and expense reserves by incorporating averages for Frequency of Claims by System Type, Reported Cause of Loss by Month, and Age of System by Claimed System Type, with their own policy-in-force data.
The 2018 Annual Claims Report suggests that HVAC claims continue to represent a significant opportunity for insurance carriers to leverage third party experts to provide objective damage assessments to improve accuracy and customer satisfaction.
© Copyright 2017 HVAC Investigators, All Rights Reserved.
All diagnosis is provided in compliance with specific state laws, using licensed contractors where required.