Assessing Ductwork: Perils, Problems, and Factors in Claims Decisions
Many HVAC claims require some attention to ductwork. After all, the ductwork carries the heated or cooled air from the HVAC system to the rest of the building, whether it's a home or business. As an insurance adjuster, you want to make sure you evaluate ductwork claims to the best of your ability, even if you aren't an expert. So, where's the best place to start? At the cause.
What Perils Are Most Likely to Impact Ductwork?
Just about anything could impact ductwork, given the right circumstances (lightning can strike into an attic and hit a duct, for example, but that's uncommon), and the cause of loss can drastically affect your customer's claim, since this often determines whether or not they're even covered. A number of problems can affect ductwork, but the four most common perils we see are water, microbial growth, smoke and fire, and infestation.
Water
Water damage to ductwork can come in a variety of different forms. Water can inundate an area from a flash flood, roof leak, or damaged appliances (i.e. water heater, bathtub, dishwasher, etc.). If this happens and the ductwork is in the basement/crawl space or if the returns are in the floors, water can easily get into the ducts. Another way water damage occurs is due to condensation (also called "sweating) in the ductwork. Depending what the ducts are made from, the water can be absorbed or cause cracks or tears, compromising the structural integrity or causing leakage and potentially even leading to other losses.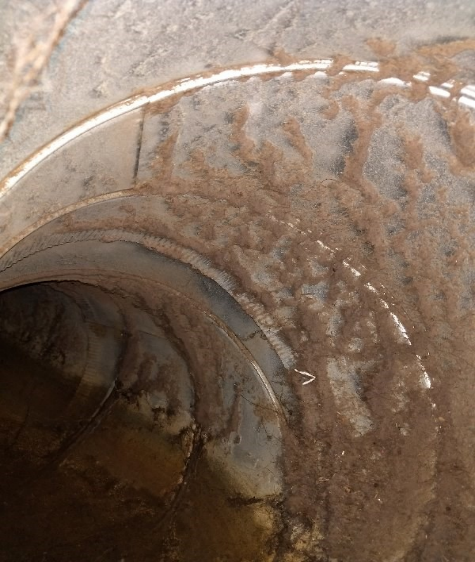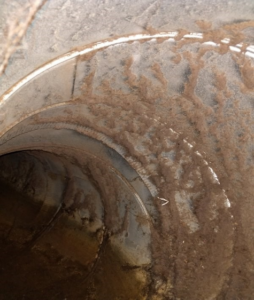 Ductwork with a clear water line and buildup showing damage
Mold and Bacteria
Microbial growths (like mold, for example) thrive in places with high humidity. If moisture is introduced, ductwork becomes an ideal breeding ground for mold and bacteria. Of course, the ducts carry air throughout the house, not only spreading the spores or bacteria for people to breathe in but also potentially carrying it to other areas, allowing it to spread and cause more damage elsewhere.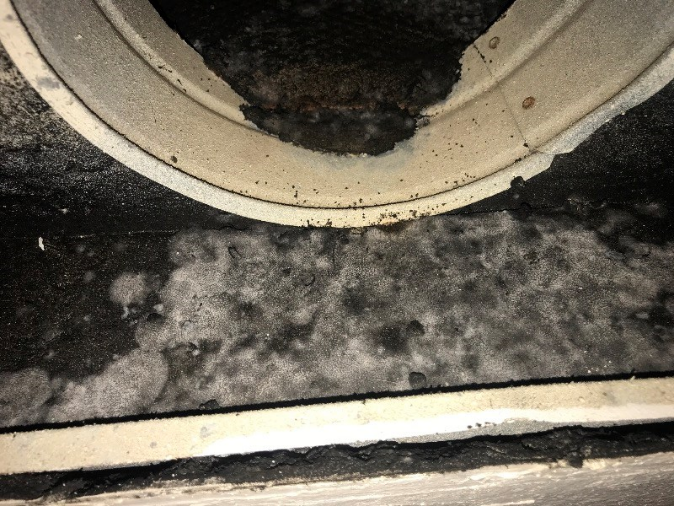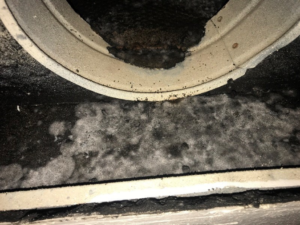 Mold growths in and around ductwork
Smoke and Fire
If a fire breaks out in an insured location, damage to the ductwork is likely. Even if the flames themselves never touch the ductwork, smoke travels very quickly and easily, meaning that the ducts are likely to have at least some smoke damage. If the HVAC system is running during the fire, the smoke can spread to the entire system, causing damage throughout. Ducts move the air we breathe in air-conditioned environments, so if there's smoke and soot in the ducts, the occupants are likely to smell it. Moreover, if the flames did impact the ductwork directly, the structural integrity of the ducts themselves could be compromised.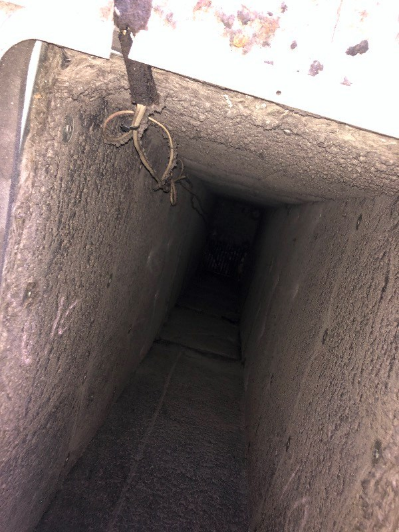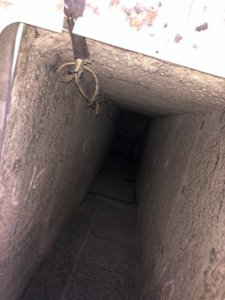 Soot and ash buildup in ductwork
Infestation
Plenty of critters like to find dark places for shelter, and unfortunately, ductwork fits the bill. Sometimes a claim might come in that is caused by mice, rats, raccoons, squirrels, or even an armadillo (yes, it has happened; we've seen some weird things). These little creatures can wreak all kinds of havoc on an insured's ductwork — feces can create odors and cause sickness, urine can cause metal ductwork to rust, scratches can compromise the structure of the ductwork — all of which needs to be addressed in order to maintain the health and safety of the insured location.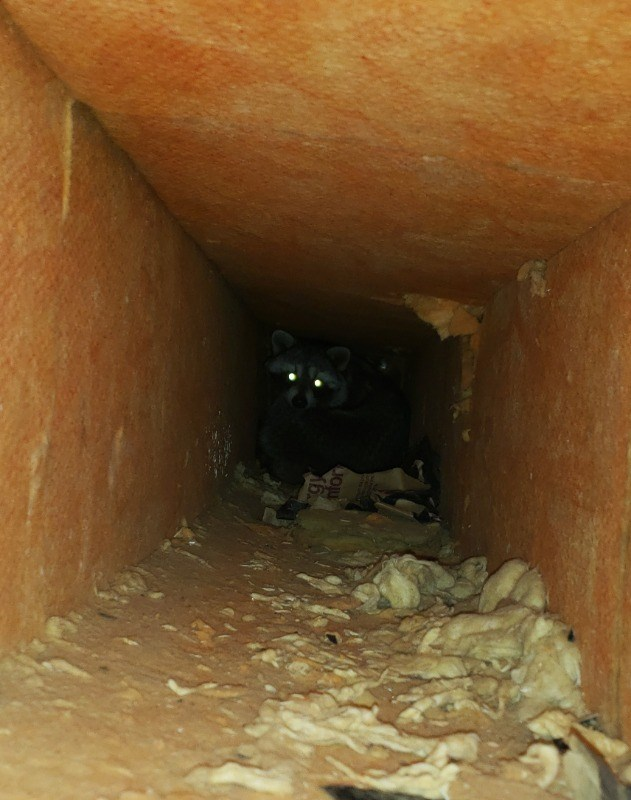 A raccoon has made a mess of this ductwork.
Things to Consider When Making Ductwork Claims Decisions
Ductwork isn't as straightforward as some other components of HVAC can be. There are several factors to take into consideration when you're making a decision on a claim that involves ductwork. As an insurance adjuster, you want to think about:
The Type of Ductwork: The type of ductwork used on the property will not only determine the cost of returning it to pre-loss condition, but also how to achieve this restoration. Check out our ductwork infographic for more on the types of ductwork you may see and how addressing these claims can differ.
The Extent of Damage/Amount of Ductwork Damaged: Probably the most straightforward aspect of ductwork evaluation — if more linear feet of ductwork is damaged or if the damage is too great, it may not be worth it or even possible to clean or repair it.
HERS Testing in California: Any time certain alterations or replacements are made to an HVAC system in California, testing is required using the Home Energy Rating System (HERS). This testing may the ductwork to be replaced (depending on how much ductwork is in question), and you need to take this into account when trying to restore an insured to pre-loss condition. For more on this, check out our HVAC Regulations Guide for Adjusters.
Whether You Can Clean, Repair, or Replace: You want to be accurate in your adjustments, so you don't want to fall into the trap of "you must replace" when really all the ductwork needs is a good cleaning or repair. On the other hand, replacement really is sometimes necessary. You need to figure out which course of action will most efficiently and effectively bring the insured to pre-loss condition.
Make the Right Decisions in Your Ductwork Claims
It's not always easy to determine whether a ductwork loss is covered and how to go about restoring the insured to pre-loss condition. As an insurance adjuster, you may not be a ductwork expert, but you want to make sure you're making the right call. That's what we're here for. At HVACi, we send our trained and vetted technicians to assess damages, and we will send you a report containing just the facts so you can make an informed choice when adjusting your claims.
Be assured in your claims decisions. Submit a claim with us today and we'll have a finished report to you in about three business days!