Insurance is not immune to inflation's impacts
Rising HVAC equipment and labor costs are increasing prices for insurance settlements.
The following article on "Insurance is not immune to inflation's impacts," written by Curt VanNess, Technical Director for HVACi, was originally published on Property Casualty 360.
Cost increases to labor and HVAC equipment are having a trickle-down effect on insurance carriers.
It's difficult to find many goods or services that haven't been impacted by inflation. Those effects have trickled down to the HVAC industry, and have extended to manufacturers, contractors, policyholders and insurance carriers.
HVAC manufacturers have reported several reasons for price hikes. Among them are the change in costs in other industries, including for raw materials, and fuel and transportation needs. Insurance professionals may find themselves paying higher settlements to account for the increased labor and equipment costs for both individual components and full HVAC systems. Another consequence is additional claims leakage if the cause of loss and scope of damage aren't verified before the claim is settled.
Three-year cost trends on HVAC split systems
Split systems are the most frequently used HVAC system in a home, and they are the second most common HVAC type in commercial claims, according to the 2021 CCG IQ Annual Report.
HVACi, an HVAC and refrigeration assessment company for insurance carriers, tracked the average split system repair and replacement costs over the last three years to note their changes. Between January 2020 and July 2022, each increased, resulting in policyholders and carriers spending more to return equipment to pre-loss condition.
The average split system replacement cost $8,670 in 2021, which was a nearly 5% rise year-over-year from 2020. However, the average split system replacement prices from January through July 2022 jumped to $9,757. Comparatively, in 2021 the average split system repair cost was $3,143, which was a 10% increase from 2020. The average repair cost from January through July 2022 was $4,126 — more than 31% growth.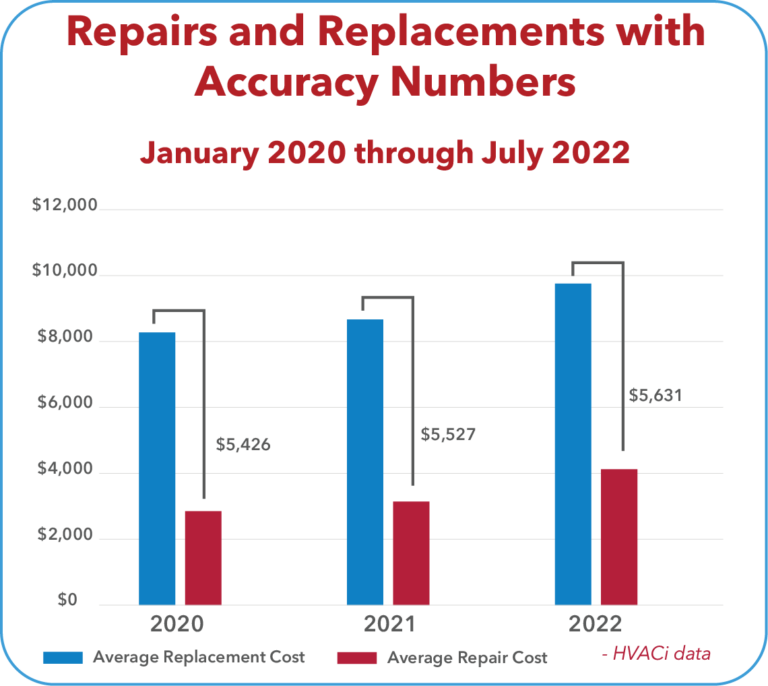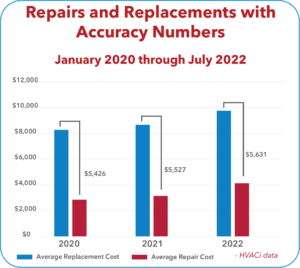 The average split system replacement and repair costs have only increased since 2020, making the risk of indemnity leakage larger if a carrier settles for replacements in lieu of repairs.
These price changes make it more imperative than ever for adjusters to verify that a split system included in a claim is not functioning as designed, is malfunctioning due to a covered peril, or is unable to be repaired before they settle for a full replacement.
Critical components with price increases
Individual component and labor cost escalations have also made HVAC system repairs more costly.
Condenser coils, which are critical in the cooling process to transport refrigerant and transfer heat to the surrounding air, are susceptible to losses from a variety of perils, including hail and wind. Average costs for HVAC condenser coil repairs increased from less than $2,800 in 2020 to nearly $3,700 by July 2022.
Replacing condenser coils is considered a more minor repair than other alternatives such as getting a new condensing unit to return equipment to pre-loss condition. Still, it may result in unnecessary claims leakage if the original coils could have been cleaned or combed.
HVAC compressors are integral in converting refrigerant from low pressure to high pressure and circulating refrigerant through an HVAC system in cooling mode. Like condenser coils, these also sustain damage from multiple perils and may be replaced to return a split system to pre-loss condition. The average compressor costs increased from $1,592 in 2020 to $2,522 mid-year 2022.
Inflation impacts don't stop at equipment. Labor prices to make necessary repairs and replacements have also surged. The average total labor cost per claim to repair condenser coils, compressors or control boards was $236 in 2020, and rose to $332 by mid-year 2022.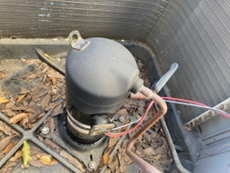 Compressors are among the critical HVAC components that have seen a price increase in the last three years.
If claims leakage occurs from one of these repairs, a few hundred dollars may not significantly impact the carrier. However, hundreds to thousands of dollars spent on unnecessary repairs and replacements across all claims could have consequences if compounded — and could result in higher premiums or a negative policyholder experience.
The need for accuracy
While inflation has had proven impacts on HVAC claims, adjusters shouldn't assume settlements must be higher than previously. HVAC system experts can verify the cause of loss and scope of damage and confirm market value pricing to give carriers what they need to accurately settle claims. This results in a better policyholder experience and reduces unnecessary claims leakage, regardless of the inflation rate.
Curt VanNess is the technical director for HVACi. He is responsible for managing the technical team, including HVAC technicians, field managers, and technical writers. Contact him at cvanness@hvaci.com.