Hail and Commercial HVAC Systems Don't Mix
Hundreds of thousands of insurance claims are filed annually in the United States because of severe hailstorms that can cause billions of dollars' worth of damage, according to the National Centers for Environmental Information (NCEI).
Texas and Colorado are the leading states for number of claims related to hail, an analysis by the National Insurance Crime Bureau (NICB) shows. Nebraska, Missouri, and Kansas rounded out the Top 5 loss states, according to the study that went from January 1, 2016, to December 31, 2018, and included nearly 3 million hail loss claims.
Each storm comes with a cost. A March 2019 hailstorm in the Dallas metroplex, for example, ravaged homes, vehicles, and businesses, resulting in roughly $1.6 billion in damages, according to the NCEI. Severe storms in June 2018 caused a total of $3.6 billion in damage to Colorado and Texas.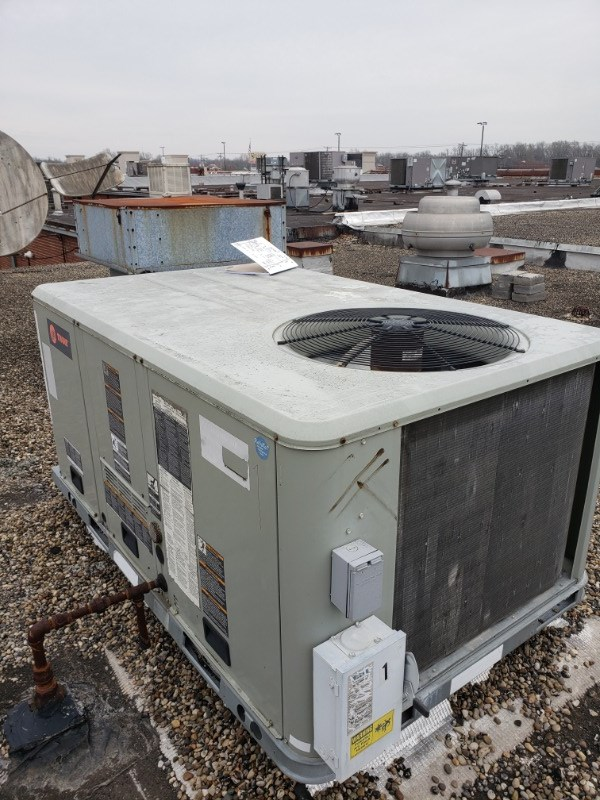 Package units and vent caps are frequently listed in commercial HVAC claims for hail damage.
Commercial properties commonly sustain hail damage, and HVAC systems are among the equipment that's frequently damaged. We analyzed our 2019 commercial HVAC claims data and found that 46% had hail as a cause of loss. And in 2018, 41% of our commercial HVAC claims were related to hail.
Hailstorms are common, making it important to know how hail impacts commercial HVAC equipment and how to handle these claims.
HVAC Equipment Prone To Hail Damage
Commercial HVAC equipment, including ground and rooftop units, is susceptible to hail damage.
Package units, all-in-one heating and cooling systems that can vary in size, are the most common commercial HVAC system affected by hail because they have several more vulnerable components. Refrigeration units, including walk-in coolers, ice machines, and refrigerated preparation tables, are used at many commercial properties, including grocery stores and restaurants. Because of the condensing units outside, they are also liable to have hail damage. Exhaust systems remove unwanted heat and combustible gas from a home using fans and vents, and the external vent caps are also frequently damaged by hailstones.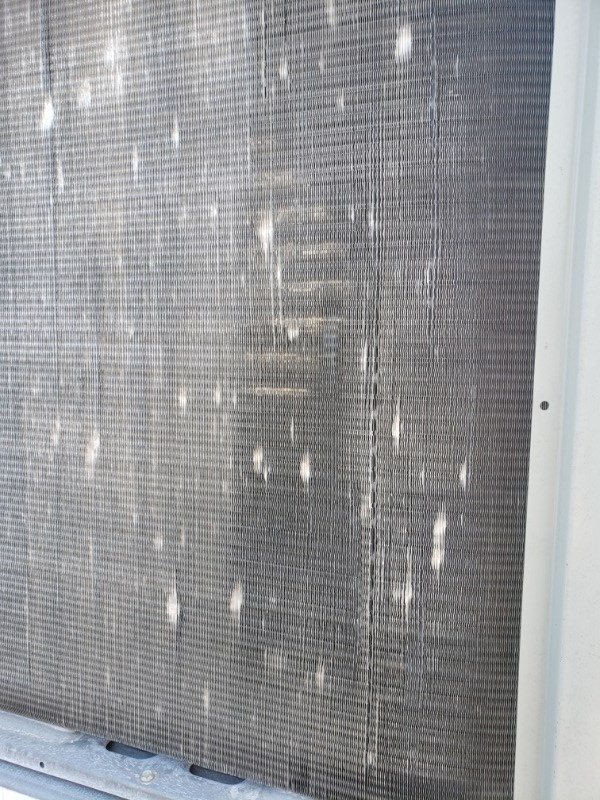 Condenser coils are among the HVAC system components prone to hail damage.
Commonly damaged components of a commercial HVAC system include:
Condenser coils: The most prominent HVAC component to sustain hail damage is the aluminum fin-covered condenser coils. Hail can easily bend or dent them. Dents in HVAC condenser fins can range up to twice the size of hailstones. When the fins are damaged, they are more at risk of pressing against each other or against the copper coil and blocking the system's air flow. If it gets bad enough, this could make the HVAC system work harder, increase its running time, produce inadequate cooling, and shorten the equipment lifespan.
Fans Blades: The fan assemblies in condensing and package units and the blades can also be dented or damaged by hail. Fan blades that are dented or broken in half could cause an imbalance that may damage the system over time because it can wear out bearings or destroy a motor by overworking it.
Vent Caps: Vent caps keep moisture, debris, and other items from getting into the system where air is being pushed out. Hail can harm the components made of softer metals. Dents are the most common damage, and they won't necessarily disrupt functionality. However, safety concerns can arise in severe hail events if the vent cap was crushed to the point that air can't escape, and carbon monoxide builds up. Metal vents are prone to corrosion and damage from moisture, wind, and hail.
Hail Damaged The System, Now What?
To prevent hail damage, policyholders can install hail guards, which protect condenser coils from hailstones. However, since many systems don't have those, the results are dented, bent, or torn condenser coils.
The fortunate part is that hail damage doesn't guarantee a replacement is needed. Whether it's a rooftop unit or a system on the ground, most of the losses can be repaired.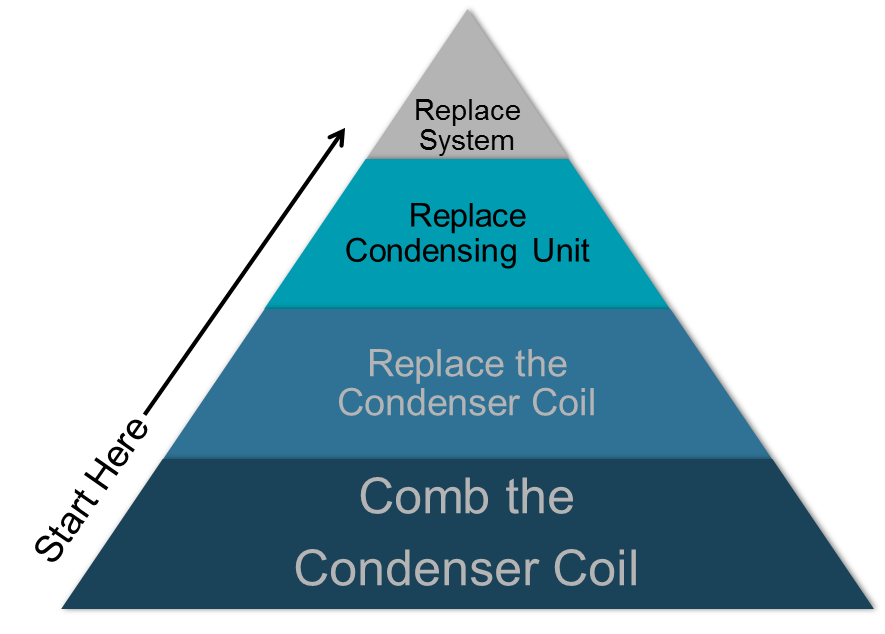 Repair options exist before settling for a full-system replacement.
The methods for returning a system to pre-loss condition range from a simple repair all the way to a full-system replacement.
Comb the Condenser Coil — If the traditional tube and fin coil are dented or deformed, use a fin comb to straighten them to proper position through this simple, inexpensive repair option.
Replace the Condenser Coil — If fins are torn or are Micro-Channel or Spine Fin and cannot be combed, the next step is to purchase a new condenser coil.
Replace the Condensing Unit — If condenser coil is unavailable, a new condensing unit can be purchased.
Replace the System — The rarest solution is to replace a full system after a hailstorm, though it may be necessary if it is an all-in-one system or if the condensing unit replacement would cause a SEER mismatch with the indoor equipment.
Other hail-damaged components may not require any action to be taken. A dented cabinet on a package unit or a dented vent cap can remain as-is if functionality isn't impeded. On the other hand, individual elements that are damaged to the point of causing other system malfunctions, such as damaged fan blades and crushed vent caps, likely must be replaced.
Hail can disrupt businesses across the country, leading to costly damages and insurance claims. It's important for adjusters to know what to look for and how to handle them.
If you have a hail claim that includes a commercial or residential HVAC system, we can help. Contact HVACi to submit a new claim.