Variables Impacting Water Losses in HVAC Claims
Torrential downpours, leaky roofs, and malfunctioning appliances could all lead to HVAC system water damages. Before settling your next water-related claim, consider how these variables impact the scope of damage and possible repair opportunities for residential and commercial HVAC systems.
1) Know the Water Source.
The water type and source are factors in figuring out what's needed to return HVAC systems to pre-loss condition after a water loss and knowing if it's a covered peril. Verifying the cause of water exposure can give an early indication of the potential repair scope.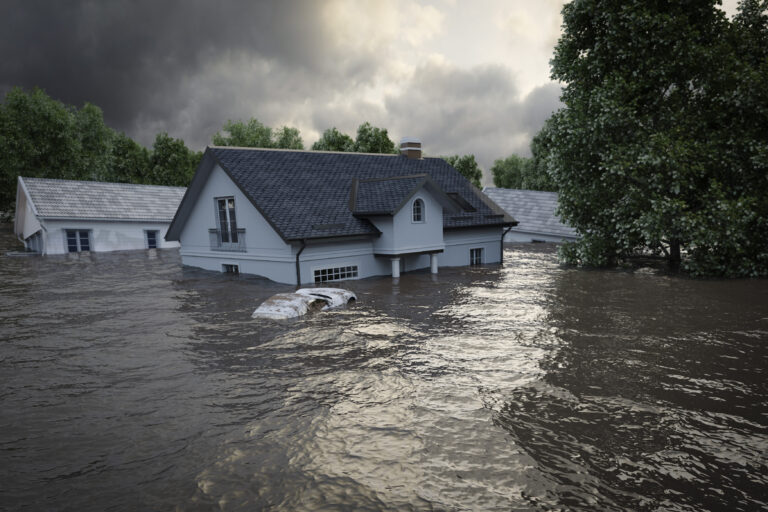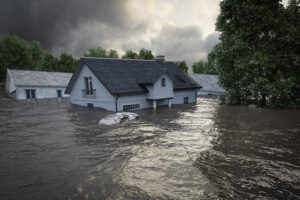 The type of water that contacts property could impact whether policyholder equipment can be repaired.
Black Water contains contaminated materials with chemicals, sewage, oil, or other dangerous debris and is caused by sewage backup, floodwater, or standing water exposed to sewage. Cleaning or minor repairs to impacted equipment may be more difficult because of hazardous contaminants. This is considered a Category 3 water loss. However, an expert should verify whether the HVAC equipment was exposed to black water, even if it was found nearby.
Gray Water, which can cause a Category 2 water loss, is wastewater from households or office buildings, including dishwashers, washing machines, sinks, showers, and bathtubs. It doesn't have fecal contamination and is safer and easier to treat, though gray water can still cause HVAC system malfunctions that require repairs.
Clean Water, as the name suggests, is cleaner than other water types and comes from the tap, a broken water line, or rainwater. The scope of damage depends on which HVAC components were exposed. This is considered a Category 1 water loss.
The source of water may also determine whether the loss is a covered peril. Surface water, groundwater, and general flooding caused by an onslaught of precipitation or storm surge are not usually covered in a standard insurance policy. However, a policyholder may be eligible for a settlement for impacts caused by wind-driven rain. Cause of loss verification is imperative to reduce the risk of settling for a non-covered peril.
2) Check for Corrosion, Mold, or Other growth.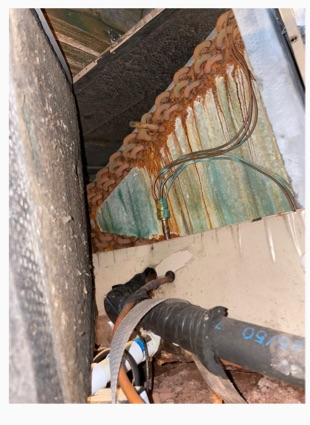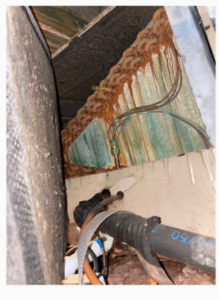 Normal system condensation and operation over time may cause corrosion and aren't necessarily signs of water damage.
HVAC system water losses occur in a short time. However, signs of corrosion, mold, or other growth are evidence of prolonged exposure.
Corrosion may occur on the condenser coil, housed outside on the condensing unit. Long-term exposure to saltwater, sprinkler systems with untreated water, or the combination of dissimilar metals and water can accelerate corrosion. These are likely signs of wear and tear and are typically not covered. Verified water losses may be impacted by corrosion in that it limits some repairs that can be made. Corroded condenser coils usually can't be combed and may require coil replacements to return to pre-loss condition.
Rust and corrosion occur elsewhere on an HVAC system. Sheet metal ductwork and other internal metal components may also be impacted by long-term water exposure – even from normal operation. An equipment assessment would determine whether corrosion or other signs of wear and tear contributed to the loss.
3) Determine How High the Water Reached on the HVAC Equipment.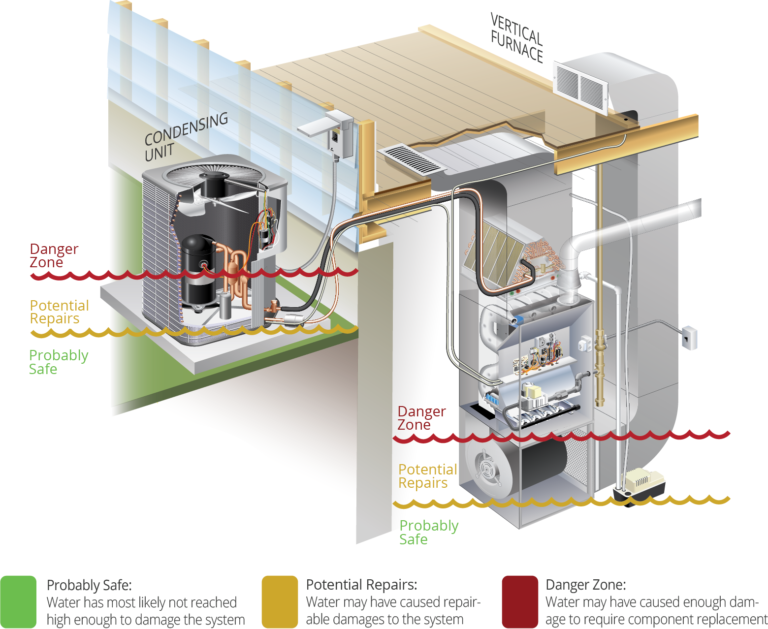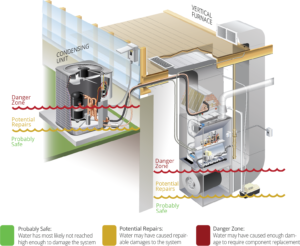 The height of water exposure could determine whether critical HVAC components have been impacted.
A major variable impacting scope of damage is the height of water exposure.
An HVAC system's condensing unit is most susceptible to weather-related water losses. Fewer repairs may be needed if water exposure is lower on the equipment because critical components are near the top. Water exposure to the compressor, electrical compartment, or fan motor may require more major repairs.
Inside a structure, HVAC equipment's location and whether it sits horizontally or vertically impacts water losses. Crawlspaces, utility closets, and basements are more likely to sustain flooding events than attics. However, attics may be affected by roof damages and other internal leaks.
Critical components are more at risk for a water failure in a horizontal furnace or air handler. Water would need to reach higher levels to impact essential equipment in vertical units. Building codes may dictate the height of HVAC system installation for this reason. Ductwork and insulation are also prone to water losses that require repairs.
Look for water exposure lines to determine how high water reached. Lines of dirt and debris on the system's back panel, electrical compartments, and adjacent building walls may be visible. Equipment labels with ink appearing to run may also indicate water exposure.
Whoever is evaluating the HVAC system for losses should consider all evidence to make more accurate determinations.
4) Verify Contractor Recommendations.
The force of water could cause HVAC equipment to become displaced and require moderate to major repairs to the system.
For example, condensing units may shift on their pads. If the connecting lineset has any breaks or kinks, contaminants may enter the refrigerant loop, causing extensive damage to the compressor or other components. Major repairs may include replacing the condensing unit, lineset, and other equipment to ensure compatibility between the internal and external equipment. Be aware that contractors may recommend full-system replacements once repairs reach this moderate level. However, this is rarely a necessity, and should be verified.
Have a claim for a water-impacted HVAC system? Policyholders likely don't provide information about these variables that impact water losses when filing their claim. Let HVACi do an objective, comprehensive damage assessment for you to determine cause of loss, scope of damage, and the most applicable repairs and replacements – without slowing down the claims process. Submit the claim to the experts at HVACi.