What to Look for in an HVAC Claims Vendor
In this competitive insurance marketplace, customers are always looking for the best deal and enhanced services. One of the key challenges for insurance companies is making certain that their claims are settled promptly and accurately — but that can be difficult when dealing with such complex equipment as HVAC systems. Working with an HVAC claims expert ensures that you receive actionable reports in a timely manner, allowing you to provide a superior customer experience for your policyholders. Here's what you need to consider when hiring an HVAC claims vendor.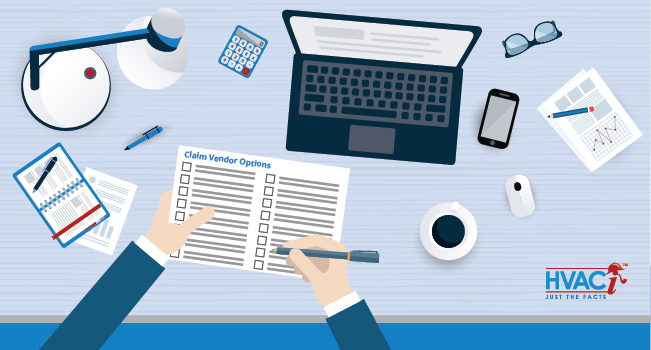 Comprehensive Reports
Making a settlement decision on the HVAC portion of a claim can be tough, which is why you need a vendor that provides clear, readable reports, with at-a-glance information as well as the deep level of detail needed for your case files. Your vendor's reports should clearly describe the cause of any loss: hail, lightning, wear and tear, fire, water, theft or other peril — with actionable findings that include the extent of the damage, the parts and labor required to return the insured to pre-loss condition, labeled photos of all equipment, and a "Like Kind and Quality" replacement option.
Exceptional Customer Service
You strive to provide excellent customer service to your policyholder, and your HVAC claims vendor should, too.  Not only should your vendor provide stellar service to both you and the insured throughout the inspection process, but they should also continue to be available to answer questions or solve any issue that occurs after the report is sent. This post-report support can separate a good vendor from a great partner by quickly providing additional details to help a claims adjuster be successful.
Rapid Cycle Times
In an ideal world, your report should be ready before you even ask for it, as opposed to you having to chase down your HVAC claims vendor to get it. Because many other elements are waiting on this critical information, the quick response time from a true HVAC claim partner can have a major positive impact on the overall claims process. Timely responses to your inspection requests can help shift the momentum on a claim, improving both workflow efficiency and staff productivity.
Knowledge of the Claims Process
A qualified HVAC claims vendor should understand how the insurance process works and how to navigate this realm. If they don't know this basic information, you may find yourself wasting valuable time tracking down answers or smoothing ruffled feathers with the insured because of your vendor's lack of claims experience. Additionally, a knowledgeable vendor can quickly identify any issues and create a comprehensive report without a great deal of input or direction, thereby streamlining your claims process.
Rigorous Onboarding Process for HVAC Technicians
Your HVAC claims vendor should provide you with only trusted and vetted technicians, which begins with a strict onboarding process to ensure consistent output. Each technician allocated to a project should have valid, up-to-date licenses and have submitted to a background check, providing peace of mind to both you and your insured.
You should also be able to trust that the field technician is an expert on the type of equipment claimed. The ideal vendor requires their technicians to have proven experience and undergo technical testing, to ensure that whomever they send out to assess equipment for your claim is adept at the job.
Delivering Unbiased Recommendations
A great HVAC claims vendor simply gives you the facts you need to settle your claim, and should not have a stake in whether the claim is settled — or for how much. You should never have to worry about whether the technician is pushing for a replacement because they're going to profit more from that than from a repair. Finding a trusted, unbiased partner is critical to accurately settling your claims.
You deserve access to an excellent vendor with the technical knowledge required to provide expert HVAC recommendations. Your insured expects top-quality customer service throughout the claims review process — and you can trust the professionals at HVACi to deliver actionable and prompt damage assessments. Contact us today to find out how we can assist you with all your HVAC claim needs.