3 Commonly Reported Summer HVAC Losses
Summer months see an uptick in HVAC claims as many policyholders turn on their air conditioning for the first time all year. Resolving these claims without an expert assessment may lead to inaccurate settlements based on wrong causes of loss; in 2022, 58% of residential claims involving HVAC and refrigeration systems were recategorized following an HVACi inspection.  Make sure you know the actual cause of loss and get repair vs. replacement recommendations before you close the claim. Here's some background on the most commonly reported causes of loss between June and September – lightning, hail, and wind – and what evaluations reveal.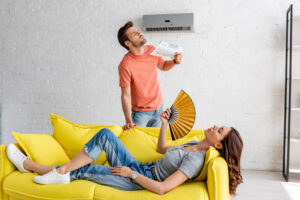 Policyholders – and you – want quick resolutions to summer HVAC claims. An expert assessment could prevent inaccurate settlement without prolonging the life of a claim.
Lightning
Lightning is a commonly reported cause of loss throughout the year. In the summer months, it's the stated cause of loss for about one-fifth of HVAC system claims assessed by HVACi but is the actual cause for only about 1% of them.
According to the National Weather Service, lightning strikes about 25 million times each year in the United States. Though direct strikes to property are rare, equipment can sustain collateral damage from nearby strikes. Evidence of a lightning-caused fire in the attic introduces the possibility of smoke and soot damage throughout the system.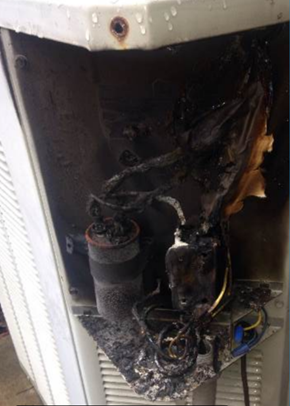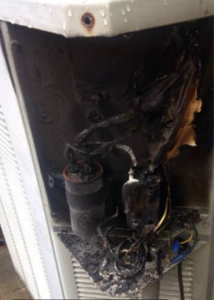 Direct and collateral damage from a lightning strike may include soot and charring to condensing units and other system components.
If lightning strikes a house, low voltage issues like control boards failure or malfunctioning thermostats are also potential indicators of collateral damage. Other visible lightning evidence includes arcing, ghosting, damage to structural components like the chimney or siding, evidence of direct strikes to nearby trees, and wiring insulation that has melted from the inside out.
For each loss, an expert assessment is necessary for more than just confirming the cause. Repair vs. replacement recommendations from a team familiar with the equipment support an accurate settlement decision. Coupled with verified market value pricing, these recommendations can also help you avoid indemnity leakage.
Average Summer Lightning Claim Accuracy for Residential Claims: $7,024
Reference this guide and Find the Cause of Loss in a Flash when you're faced with a claim in which lightning is the reported cause of loss.
Hail
Hail is most common between April and August, with most summer HVAC claims reporting hail as a cause of loss coming in during June and July, then tapering off. Residential equipment assessments confirmed hail was responsible for about 5% of summer losses. More importantly, almost 80% of hail-impacted equipment can be repaired without a replacement.
Other causes of loss may be mistaken for hail damage, but experts familiar with the equipment in question can tell the difference. Many perils can dent or flatten the coil and/or aluminum fins within the condensing unit. However, if this damage is randomly spaced out and there are dents in the coils, fins, or casing, hail is a likely cause of loss. Sometimes the outline of the impacting hail is visible in the damage.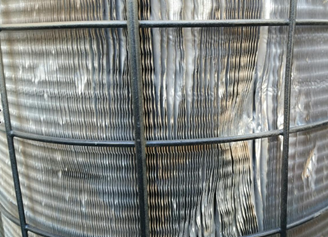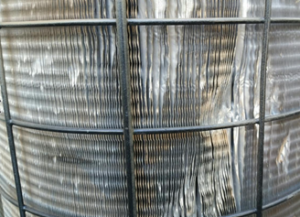 Dents in the fins that are random rather than linear are evidence of likely hail damage.
Average Summer Hail Claim Accuracy for Residential Claims: $4,735
Summer isn't the only season for hail-related HVAC claims. To get the facts of how hail and wind affect equipment in the spring, head over to Impacts to HVAC Systems Frequently Appearing in Wind and Hail Claims.
Wind
You're most likely to see summer wind claims later in the season. Last year, HVACi determined 13% of HVAC losses that occurred in August and September were caused by wind.
Wind can cause direct damage to condensing units by shifting them out of position or blowing them over. However, high winds may also lead the environment around the equipment to cause damage, such as blowing airborne particles, light debris, and even branches and uprooted trees into the HVAC equipment. Wind-damaged fins may be able to be combed out and condenser coils cleaned, but any damage should be assessed by an expert familiar with the equipment to ensure an objective, accurate claim resolution.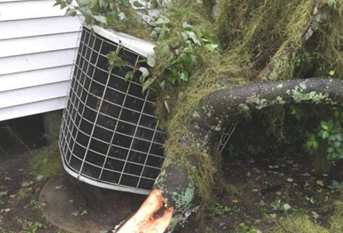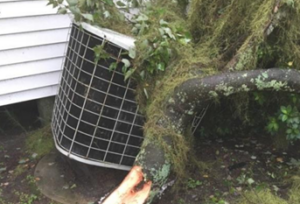 While some damages may be as small as particles clogging the fins, HVAC equipment can sustain impact damages as the result of high winds.
Average Summer Wind Claim Accuracy for Residential Claims: $5,639
To see how HVACi experts offered one adjuster the best next steps for two residential split systems in lieu of an unnecessary settlement for two residential split systems, read our Wind Claim Case Study.
Don't forgo an expert assessment of HVAC and refrigeration equipment because the cause of loss seems obvious. The HVACi team confirms the actual cause quickly and accurately, with an average cycle time of 5 days for residential assignments. We also provide repair vs. replacement recommendations supported by evidence and verified market value pricing. Submit an assignment today.