Just the Facts – How HVACi Puts its Words into Actions to Handle Insurance Claims Related to HVAC Systems
Just the Facts is HVACi's tagline for a reason. It's something we believe in and achieve from the moment insurance personnel put their trust in us to handle their assessments for claims related to HVAC systems all the way until we provide them final reports with our recommended claim resolutions.
HVACi operates using its proven process to ensure accuracy and objectivity for every claim. Among the ways we do that are by selecting experienced personnel, staying current with industry best practices and regulations, and peer reviewing our work to avoid error. These methods guarantee that we base our recommendations on facts to empower adjusters to make accurate and fair settlements for their policyholders.
Choosing Qualified Personnel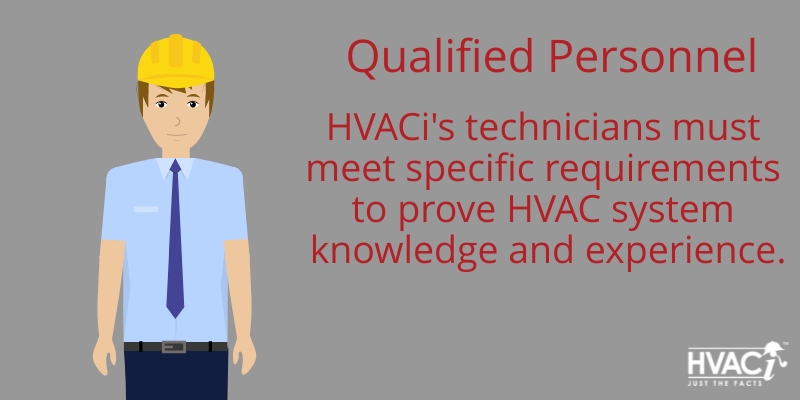 Our technicians are our eyes and ears at an insured's property, thus we verify the people we send have the necessary skills and experience to perform the assessment. To even be considered for a job, technicians must have at least 5 years of experience, an EPA Type II or Universal Certification, and a valid state and local HVAC contractor's license if required by area jurisdictions. We follow up to make sure these qualifications are kept up to date. They must also pass technical exams. We have an additional measure of requiring all technicians to pass criminal background checks. These steps help certify that the technicians have expert knowledge of the equipment they'll be assessing and will maintain the high level of customer service you have come to expect from us.
Technicians must also follow HVACi guidelines against soliciting work from the insured. That includes trying to promote their businesses to make the needed repairs or replacements related to that particular claim or any future ones. Technicians are also not allowed to discuss their findings with the policyholder. As HVACi only recommends claim solutions and doesn't have any decision-making authority, it would be inappropriate for anyone other than the adjuster to discuss the claim with the insured.
Our company's technical team has hundreds of years of contractor field experience and forensic technician experience.  The technical team's knowledge base in documenting inspections, servicing equipment, and repairing and replacing systems in both residential and commercial environments is what sets us apart in keeping to just the facts.
Staying Current with Industry Best Practices and Regulations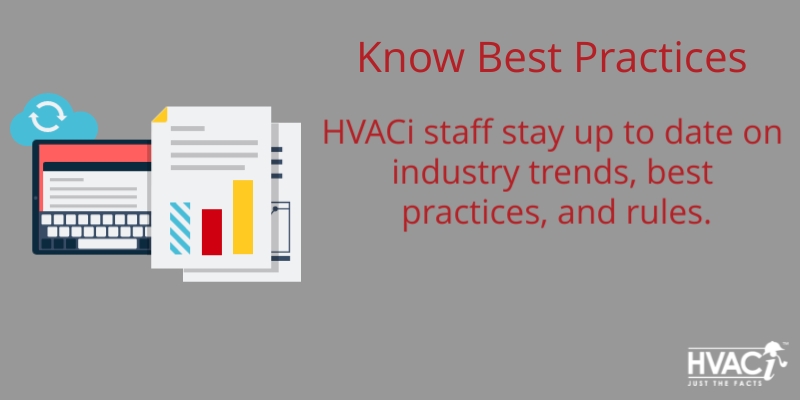 HVACi staff is cognizant that the industry has undergone changes as new products are released and new regulations are announced. Even with our wealth of experience, it's impossible to stay accurate without continued education and staying up to date on trends, best practices, and rules.
We work hard to stay informed. And since we've done the homework for you, we want to share our knowledge.  Adjusters and other insurance personnel know to come to us when they have questions about various HVAC-related topics, including refrigerant regulations, even if their insured's claim has been closed. We also regularly provide updated articles and resources as well as host webinars to teach others about the complex equipment we deal with daily.
Peer Reviews for Accuracy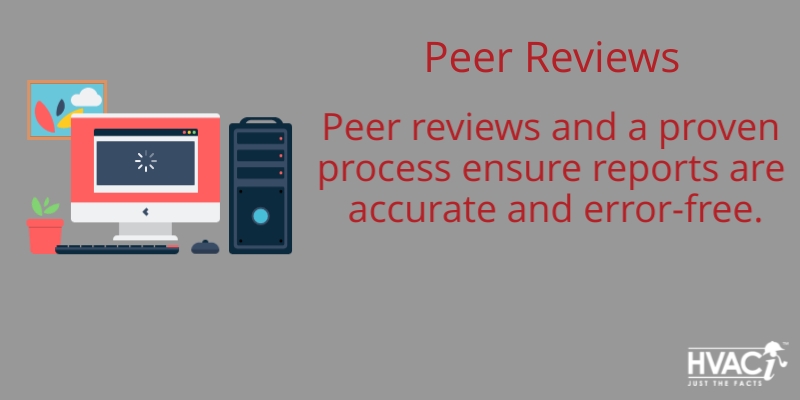 Qualified personnel write each report for the assessments, but we don't leave room for error.
Each claim assessment goes through a multi-level process, including peer reviewing, prior to being delivered to the adjuster. We analyze the data and draw conclusions before communicating our results. These are then peer reviewed for errors to make sure our final reports are polished and mistake-free. We also ensure our labor and equipment estimates are backed by industry standards and current values, thanks to our access to manufacturer databases.
Plus, if there are any follow-up questions, we have a resolutions team willing to reopen the claim file and offer more insight.
Going Forward
Next time you see our logo and the phrase "Just the Facts," know that we wouldn't have it any other way. Just the Facts incorporates HVACi's commitment to knowledge, accuracy, and objectivity and is not just a saying – it's our way of doing business.
Check out how our facts can make your settlements more accurate by filing a claim with us today.