Many kinds of commercial properties may have kitchens, from small delis with single grills to full-service restaurants and beyond. Proper ventilation and grease management are essential in operating them safely. Kitchen HVAC equipment is responsible for managing grease vapors, odors, contaminants, moisture in the air, and combustible gases. Adjusters should know about this equipment because when it operates correctly, the system controls the kitchen's temperature, humidity, and airflow, and prevents smoke and fire incidents and associated claims.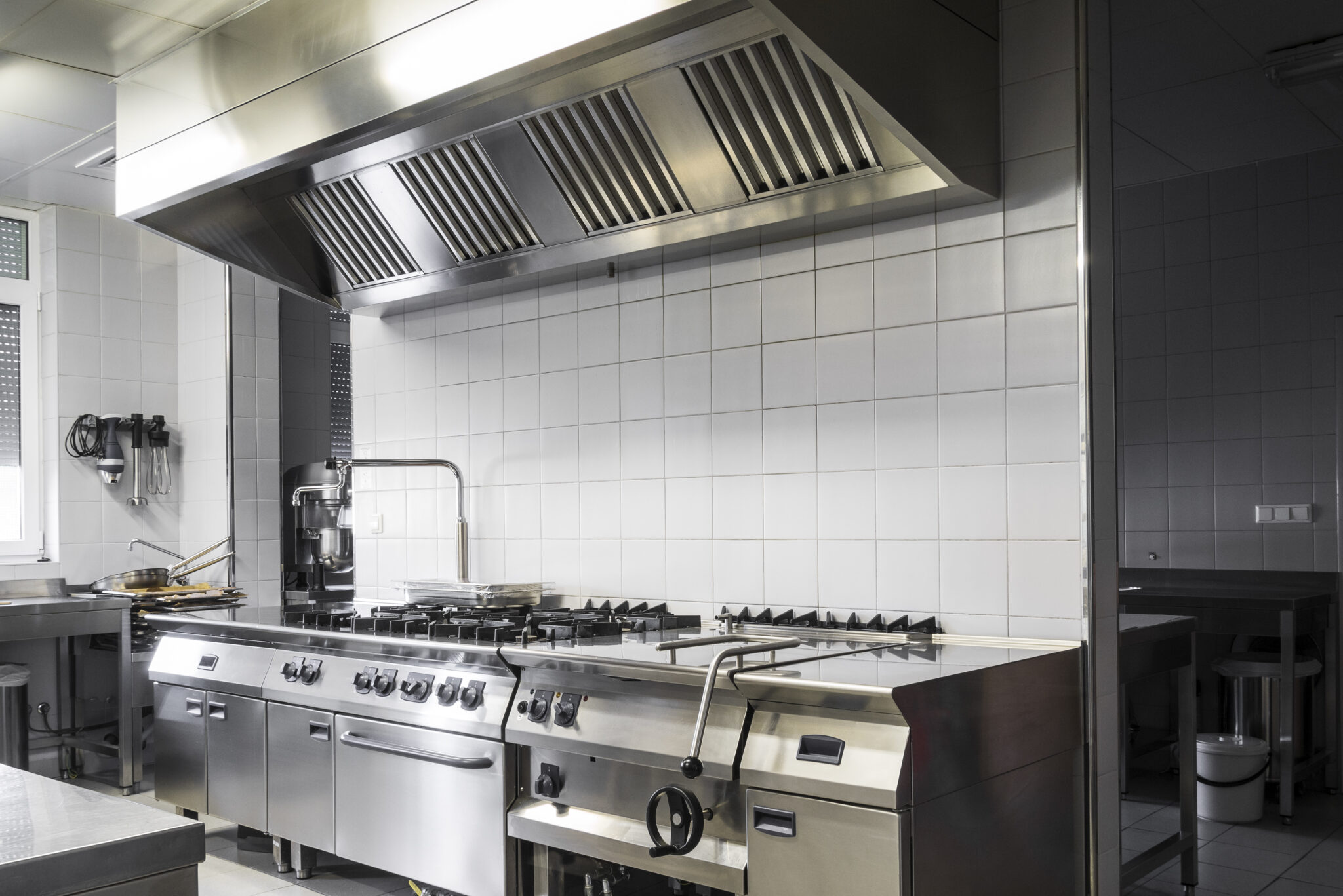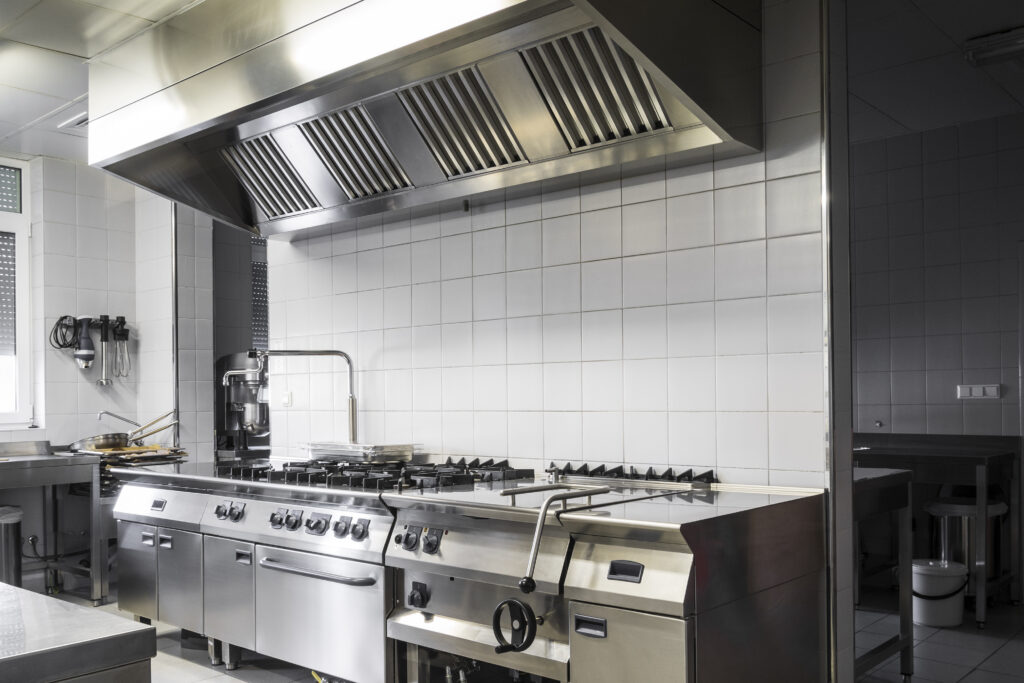 Each commercial kitchen requires ventilation appropriate to the volume and type of food preparation that occurs there.
Commercial Kitchen HVAC Equipment
Exhaust hoods are one of the most important pieces of HVAC equipment within a commercial kitchen. Hoods remove smoke, grease-laden vapors, fumes, and odors. Type I, also called grease hoods, are installed above equipment that generates grease or smoke, like grills or fryers. They contain devices that pull in grease from the air and remove it from the kitchen. Type II hoods, or condensate hoods, are installed above appliances like ranges or ovens. Adjusters should expect to see them in places that generate steam, heat, or combustion byproducts where grease and smoke are not present.
Commercial hoods include important components like upblast exhaust fans, which pull the air and any airborne cooking byproducts from the kitchen into the hood and through filters. Air is blown out of the top, and a sealed compartment, such as ductwork, protects the motor from the heat, moisture, and contaminants being removed. Additionally, a secondary grease trap captures condensed grease to prevent it from getting onto the roof. If ductwork penetrates a fire-rated wall or ceiling, the air duct must have a continuous enclosure or be protected with a listed duct-through-penetration system, or the fire rating will be compromised. Downblast exhaust fans eject air down toward the fan base and roof, which could be a fire hazard if grease accumulates there. They should never be used in a commercial kitchen. Regardless of type, 41% of commercial exhaust fans HVACi assessed in 2022 were impacted by hail; nearly 16% of them were impacted by wind; and 19% of commercial exhaust fans were non-damaged at the time of assessment.
Make-up air must also be brought in to replace the air taken away by the kitchen exhaust at approximately the same rate as the air removal. This balances the air pressure in the kitchen and throughout the rest of the commercial facility and contributes to overall Indoor Air Quality (IAQ). Depending on the size of the kitchen, this may require a separate make-up air unit. In 2022, 33% of commercial make-up air fans and commercial make-up air units were non-damaged at the time of the assessment, 20% of them had been impacted by wind, 13% had been damaged by fire, and 13% were damaged by foreign object impact.
These components work together to make the environment comfortable for the kitchen staff, but good ventilation also reduces the risk of smoke and fire damage.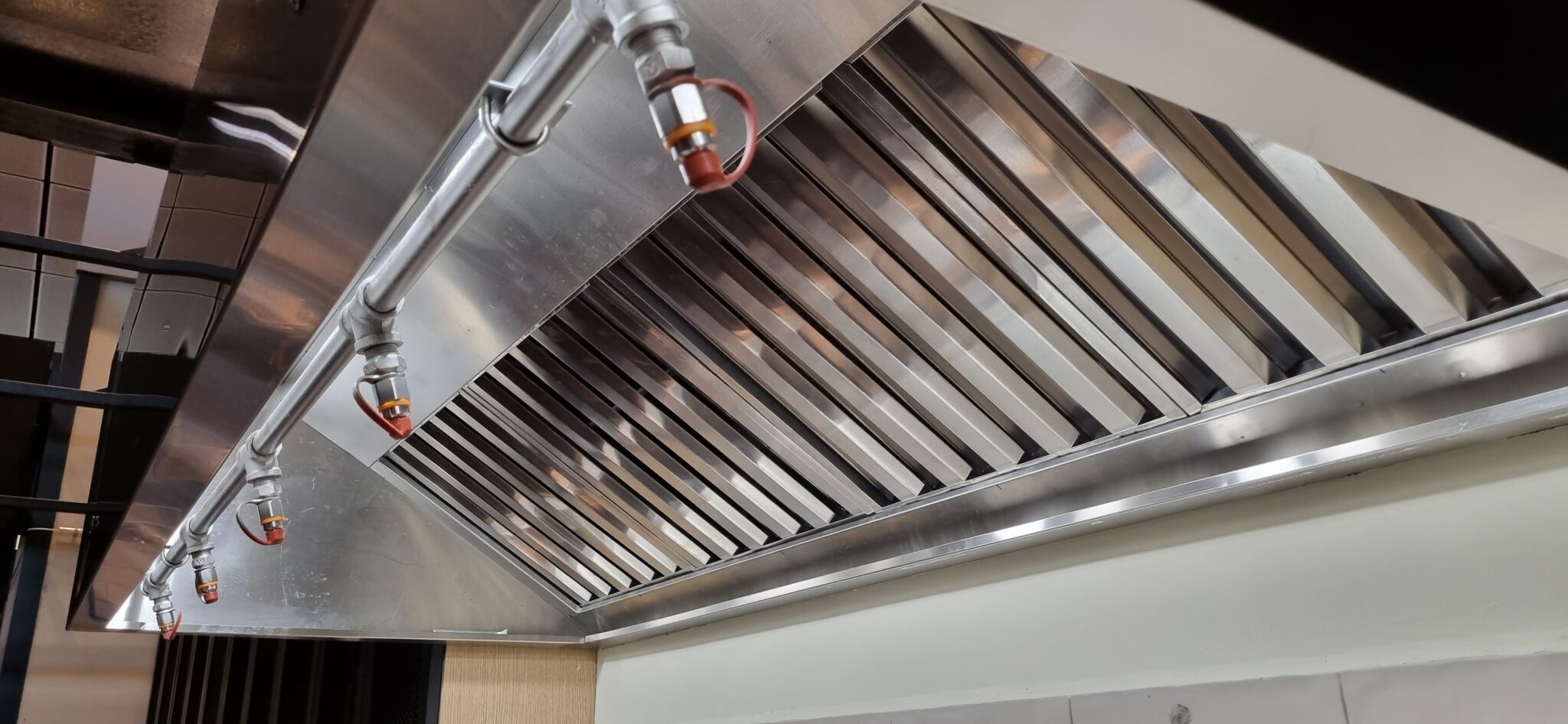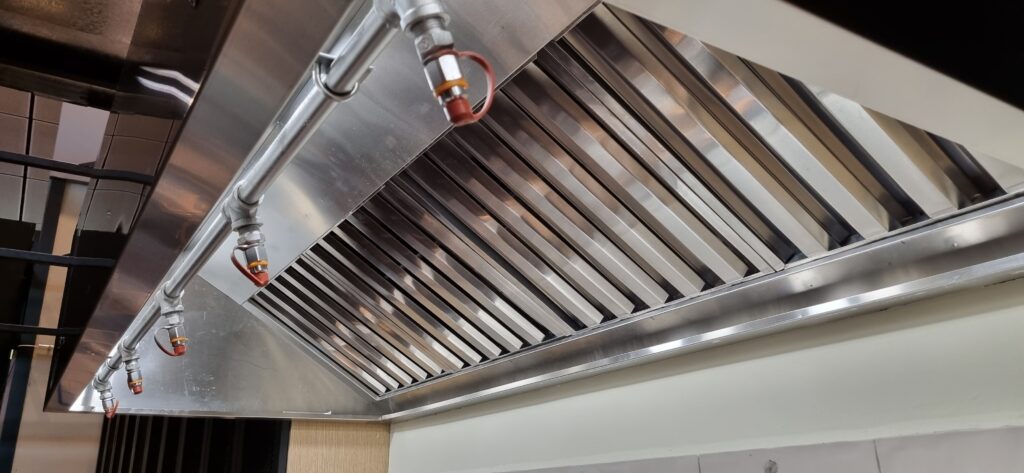 Commercial kitchen hoods exhaust contaminated air and grease.
Smoke and Fire Damage
As described above, commercial kitchen exhaust can help prevent losses by removing grease vapors from the air, but grease accumulation is one of the most common causes of smoke and fire damage in commercial kitchens. If filters and grease traps are not cleaned regularly or otherwise properly maintained, grease can accumulate, overheat, and combust. The National Fire Protection Association advises that hoods should be inspected for buildup monthly, quarterly, annually, or semi-annually, depending on the volume and type of food production. Backed-up grease traps may generate flammable or toxic gases, like methane or carbon monoxide, which can also cause a fire in a hot kitchen.
Commercial kitchen smoke and fire incidents may result in extensive property damages to costly equipment. When losses occur, an expert familiar with the equipment should inspect the site to verify the cause of loss, the extent of the loss, and what Like Kind and Quality equipment would restore the kitchen to pre-loss condition. However, it's also possible some claimed equipment may be non-damaged, requiring no action from the adjuster or policyholder to return the equipment to pre-loss condition.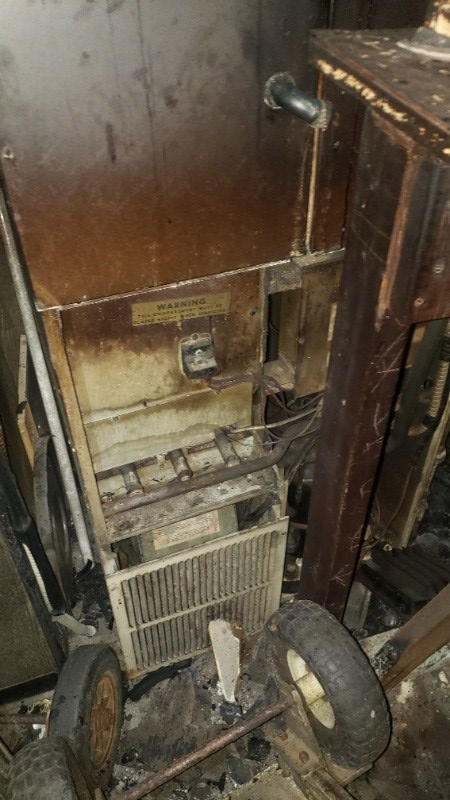 Commercial kitchen fires don't just affect cooking equipment. This furnace was damaged by smoke and heat when a fire occurred in a restaurant kitchen.
HVAC Investigators (HVACi) provides the leading HVAC and refrigeration system assessments and desktop pricing reviews for residential and commercial claims nationwide. HVACi's team of qualified subject matter experts can provide the information that adjusters need to settle a claim for commercial kitchen HVAC equipment quickly and accurately. Submit an assignment to see how HVACi's fact-driven approach, extensive in-field network, and quick cycle times can help you settle commercial kitchen claims.