HVAC Claims Continue to Offer Property & Casualty Carriers a Monumental Opportunity to Realize Millions in Claims Leakage Annually  
HVACi's 2019 Annual Claims Report showcases the significance of partnering with a third party subject matter expert in identifying and recapturing claims leakage
CHARLOTTE, North Carolina, February 20, 2019 — HVAC Investigators (HVACi), the nation's leading provider of HVAC Refrigeration damage assessments for Property & Casualty insurance carriers, announced the release of its 2019 Annual Claims Report today. The report highlights and analyzes significant data and offers carriers compelling insight into opportunities for claim leakage control.
In 2018, 61% of the claimed perils investigated by HVACi were recategorized, with 16% of claimed systems found not damaged during an onsite assessment. This data illustrates that when carriers partner with a trusted, third party expert to evaluate HVAC losses, they can better control and reduce indemnity leakage. Further, the report delves into each policy line, a variety of causes of loss, and the year's major catastrophes to reveal meaningful data points for Property & Casualty claim professionals. The analysis underscores the prevalence of HVAC claims in the insurance industry and features insights that will be valuable in setting indemnity reserves and making staffing decisions.
Distributed to Property & Casualty insurance carriers nationwide, the HVACi 2019 Annual Claims Report features data derived from many thousands of residential and commercial claims referred to HVACi by the nation's top carriers in all 50 states. These claims encompass all major perils, manufacturers, and equipment types that adjusters encounter on a day-to-day basis.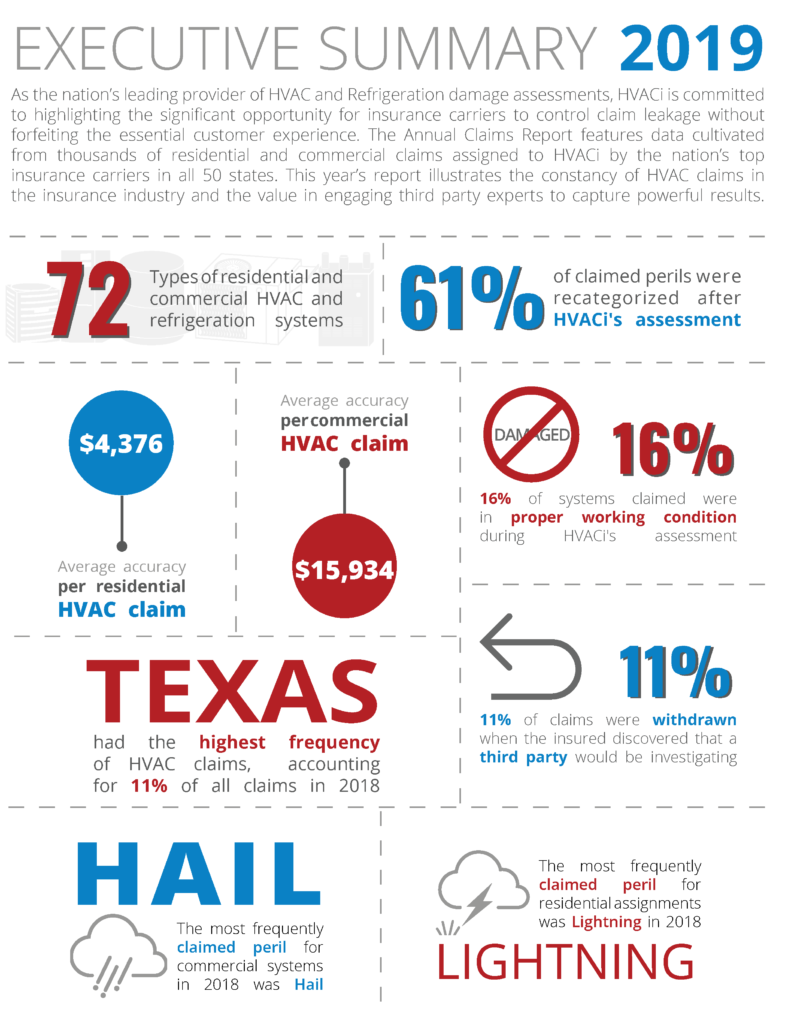 This year's report features popular topics carriers rely on, including Average Claim Accuracy, Repair vs. Replace Frequency, Reported vs. Actual Cause of Loss, and Frequency of Claims by System Type. In particular, claim trends such as Distribution of Claims by State and Reported Claims by Month by Peril offer key insights into setting indemnity reserves. 2019's report also dives into data from the year's most devastating catastrophes: Hurricane Florence, Hurricane Michael, and the California wildfires. The increasing trend toward large-scale catastrophes emphasizes the significance of implementing a standardized HVAC investigation process to minimize catastrophe claim leakage. Lastly, new additions to this year's report include analysis on Repair vs. Replace by System Type, Cause of Damage Frequency by System Type, Equipment SEER Rating trends, and large loss claims examined by building type.
According to Matt Livingston, co-founder of HVACi, "The 2019 Annual Claims Report once again illustrates how significant HVAC claims are in the Property & Casualty insurance industry. This year, the average accuracy for a residential claim was $4,376 and $15,934 for a commercial claim. When you apply these figures to the many thousands of HVAC claims we see on an annual basis, there is over a billion dollars of potential accuracy." This report will be immediately accessible to insurance professionals.
HVAC Investigators (HVACi) is the nation's leading provider of HVAC and refrigeration damage assessments. Our prompt inspections, actionable reports, and national footprint help insurance carriers settle HVAC claims more quickly and with a higher degree of accuracy. To learn more about our services or to submit an assignment, please visit hvaci.com, email info@hvaci.com, or contact us by phone at (888) 407-5224.